Home
Recent Images
Galaxies
Nebulae
Natural Color
Narrow Band
H-Alpha
Clusters
Comets
Solar System
Observatory
Equipment
My Freeware
Tips & Tricks
Published Images
Local Weather
Terrestrial
M53 - Globular Cluster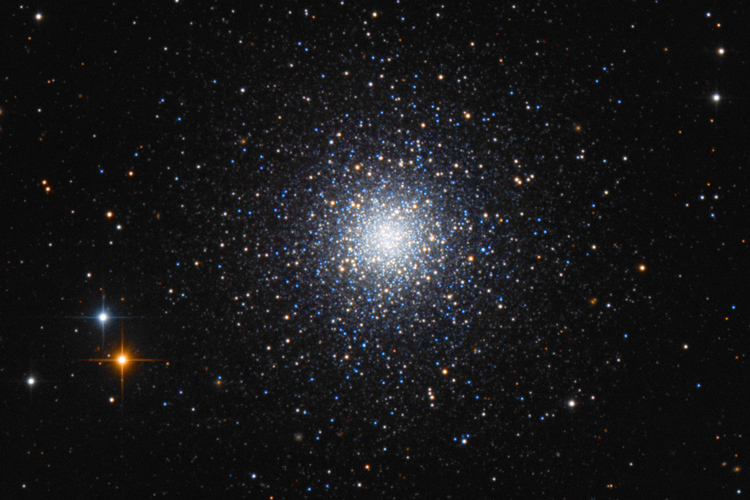 Click the image for a full size (1.28 arcsec/pixel) display (1704 x 1136) 943 KB .
Instrument

12.5" RCOS @ ~f/9 (2880 mm fl). Imaged at 1.28 ArcSec/pixel, shown resampled to 1.88.

Mount

Paramount ME

Camera

SBIG STL-11000 w/ FW8 filter wheel, AstroDon Filters

Acquisition Data

4/6/2014 to 4/25/2014 Chino Valley, AZ. with CCDSoft and CCD Commander

Exposure

RGB 360 min. (12 x 10 min. bin 2x2) each

Software

CCDSoft, CCDStack, PixInsight and Photoshop CS6.

eXcalibrator v4.25 for (g:r) color balancing, using 64 stars from the SDSS-DR9 database.

CCDBand-Aid to repair Kodak KAI-11000M vertical bars.

CCDStack to calibrate, register, data reject, combine the sub exposures and create the RGB image.

PixInsight for gradient removal and initial non-linear stretching.

PhotoShop for the final touch-up.

Comment

North is to the top.

Also cataloged as NGC 5024, the cluster was discovered by Johann Elert Bode in 1775. M53 is in the constellation Coma Berenices, at a distance of about 58,000 light years from the earth. At about 60,000 light years, the cluster is the most distant from the Galactic center. M53 contains over 250,000 stars.