Click the image for a 47% size view. (1800 x 1200 - 1.00 MB)
Instrument

12.5" RCOS @ ~ f/9 (2880 mm fl) at 0.64 arcsec/pixel. Shown at 1.36 and 3.26 arcsec/pixel.

Mount

Paramount ME

Camera

SBIG STL-11000 w/ FW8 filter wheel, AstroDon Gen-2 filters.

Acquisition Data

10/20/2011 to 11/1/2011 Chino Valley, AZ. with CCDAutoPilot3 & CCDSoft. AOL guided

Exposure

| | |
| --- | --- |
| Lum | 360 min (24 x 15min) Bin 1x1 |
| RGB | 405 min (9 x 15 min. each channel) Bin 2x2 |

RGB ratios are 1.00, 0.95 & 1.05

Software & Processing Notes

CCDSoft, CCDStack, PixInsight, Photoshop CS6.

No SDSS stars were available for color balancing, so a standard image-train color calibration was used, as determined by eXcalibrator v4.25, and then adjusted for altitude extinction.

CCDBand-Aid to repair KAI-11000M vertical bars.

CCDStack to calibrate all sub exposures and create the RGB image.

PixInsight to register, normalize, data reject, combine the luminance sub exposures, gradient removal, non-linear stretching with HistogramTransformation, detail enhancement with HDRMultiscaleTransform and create the LRGB image.

PhotoShop for the final touch-up.

Noiseware 5, a PhotoShop plug-in.

Comment

The nebula is shown rotated 25° clockwise.

NGC 1579 is located in the constellation Perseus at a distance of about 2100 light years. It is also mistakenly included in the Sharpless emission nebula catalog as Sh2-222. The nebula resembles the better-known Trifid nebula. Unlike the Trifid, NGC 1579 is a diffuse nebula and does not get its red color from glowing hydrogen gas. Dust drastically diminishes, reddens and scatters the light from a young nearby star. Also seen in the area are blue reflection nebulae.
═══════════════════════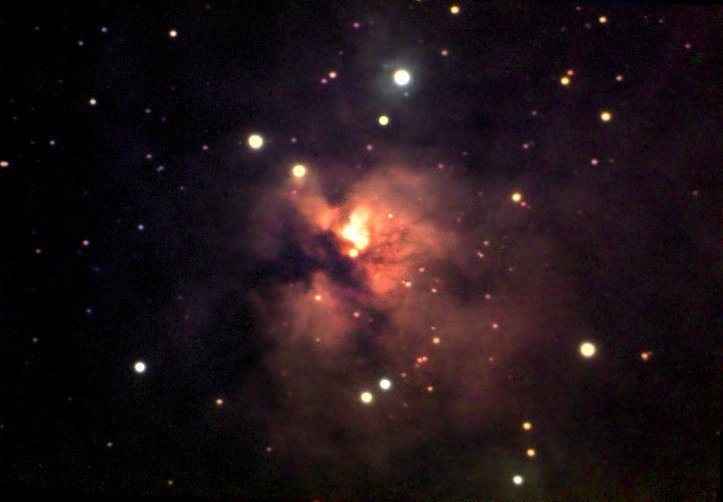 Instrument

Celestron C11 @ F/6.1 (1705 mm) 1.087 arcsec / pixel

Mount

Losmandy G11

Camera

SBIG ST-7 with CFW-8A color wheel

Acquisition Date

2/11/05 to 3/14/05 Near downtown Seattle

Exposure

Lum 390 min (26 X 15 min)
Red 105 min (7 x 15, bin 2 x 2)
Green 75 min (5 x 15, bin 2 x 2)
Blue 154 min (7 x 22, bin 2 x 2)

Software

CCDSoft, Sigma-Clip, Photoshop CS w/ the Fits Liberator plugin & Iris