Home
Recent Images
Galaxies
Nebulae
Natural Color
Narrow Band
H-Alpha
Clusters
Comets
Solar System
Observatory
Equipment
My Freeware
Tips & Tricks
Published Images
Local Weather
Elongated Star Repair w/ PhotoShop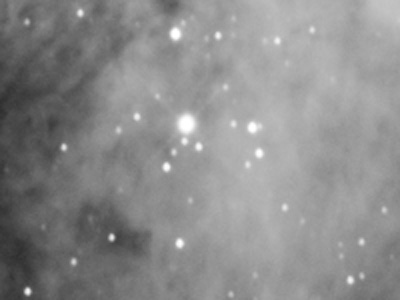 Run your mouse over the above image to see the before and after images.
First, copy the image to a new layer and set the blend mode to darken.

Use your favorite tool to select the stars.

Then expand the selection, to include some of the background around the stars, and feather a bit. Try 5 for expansion and 2 for feather.

Use Ctrl-H to toggle off the "marching ants".

Now select the Move Tool and use the arrow keys to move the selection in the direction of the elongation one or two pixels.

Use Ctrl-H to toggle on the "marching ants", deselect the stars, and flatten the image.

Finally, select the stars again, without expanding the selection, and brighten the center of the stars to match the original image.

Final Note: If a one pixel move is too much, double the image size, fix the stars and then reduce the image back to the original size.