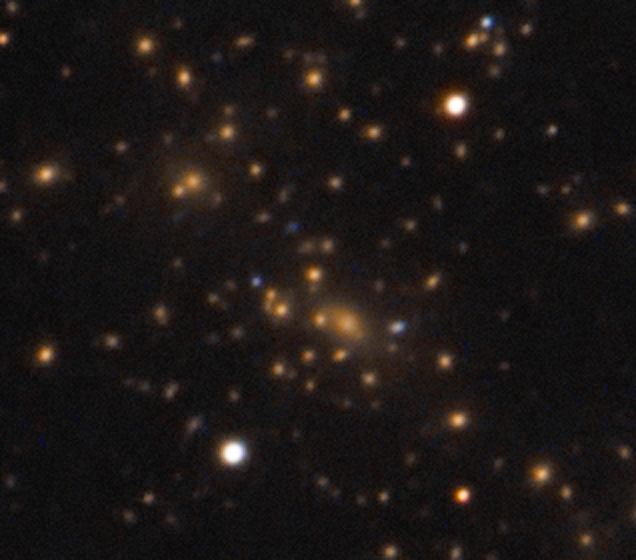 Center of the cluster at 200% resolution.
Mouse-Over shows the Hubble resolved gravitational lenses.
Credit: ESA, NASA, J.-P. Kneib (Caltech/Observatoire Midi-Pyrenees) & R. Ellis (Caltech)
Instrument

12.5" RCOS @ ~f/9 (2880 mm fl) 0.64 arcsec / pixel. The Zoomify image scale is 0.64 to 3.59 arcsec / pixel.

Mount

Paramount ME

Camera

SBIG STL-11000 w/ internal filter wheel, AstroDon Gen II Filters

Acquisition Data

5/28/2012 to 6/24/2012 Chino Valley, AZ... with CCDAutoPilot3 & CCDSoft. AOL guided

Exposure

| | |
| --- | --- |
| Lum | 450 min. (15 x 30 min. bin 1x1 - best of 20) |
| RGB | 900 min. (20 x 15 min. each, bin 2x2) |

Software

CCDSoft, CCDStack, Photoshop CS3 w/ the Fits Liberator plugin.

eXcalibrator v3.1 (g-r) color balancing, using 68 stars from the SDSS-DR8 database.

PixFix32 (pre-beta) to repair column defects.

CCDBand-Aid (pre-beta) to repair the STL-11000M vertical bars.

CCDStack to calibrate, register, normalize, data reject, combine the sub exposures, and the RGB color image.

PhotoShop none-linear stretching and the LRGB combine.

Noiseware Pro, a PhotoShop plug-in.

Comment

North is to the right.
Abell 2218 is a cluster of galaxies about 2 billion light-years away in the constellation Draco. Because the cluster is so massive and compact its gravity bends and focuses the light from galaxies far behind it. As a result, multiple images of these background galaxies are distorted into long faint arcs. This effect, called "gravitational lensing", was predicted by Einstein and allows astronomers to see galaxies at great distances.

The above mouse-over image shows that only a few of the distant galaxy arcs were very faintly resolved with the Focal Pointe Observatory 12.5 inch f/9 optics.