Click the image for a larger, 42% size, view. (1900 x 1350 - 1.39 MB)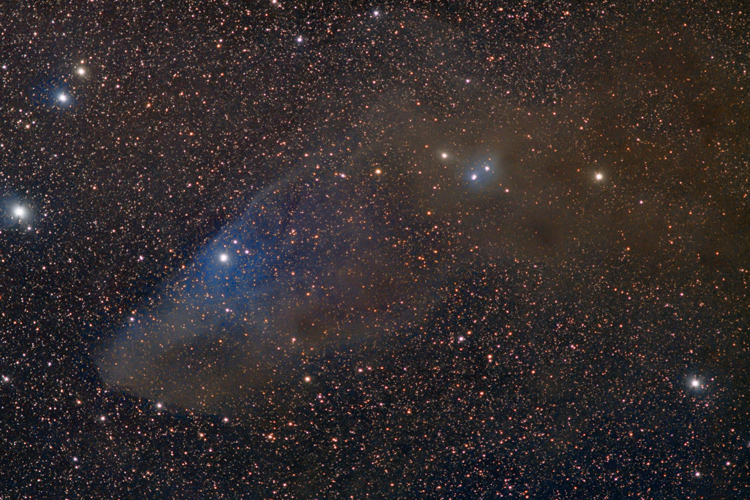 With the stars dimmed, we see more detail in the nebula.
Instrument

Pentax Super Takumar 200mm @ f/4, circa 1969. Aquired at 4.42 arcsec/pixel. Shown at 27.15 and 16.85 arcsec/pixel.

Mount

Losmandy G11 with Gemini L4 v1.0, unguided

Camera

Canon EOS Rebel T5i (no modifications)

Acquisition Data

7/2/2016 to 7/7/2016 Chino Valley, AZ w/ CCD Commander and TheSkyX

Exposure

| | |
| --- | --- |
| Raw ISO 800 No Filters | 625 min (250 x 2.5 min) |

eXcalibrator RGB ratios are 1.00, 1.01, 1.12

Software

Pixinsight and Photoshop CS6.

eXcalibrator v5.0 (beta) for (g:r) color balancing, using 54 stars from the APASS database.

PixInsight processing includes calibration, debayering, registeration, stacking, gradient repair, non-linear stretching with HistogramTransformation and ACD_noise_reduction.

PhotoShop for the final touch-up.

Noiseware 5, a PhotoShop plug-in.

Comment

North is to the bottom. Up-side-down it looks like a horse.

IC 4592 (also known as the Blue Horsehead Nebula) is a reflection nebula in the constellation Scorpius at a distance of about 400 light-years. The nebula is illuminated by the bright star, Nu Scorpii.