Instrument

12.5" RCOS @ ~f/9 (2880 mm fl) 0.64 arcsec / pixel. The Zoomify image scale is 1.28 to 3.07 arcsec / pixel.

Mount

Paramount ME

Camera

SBIG STL-11000 w/ internal filter wheel, AstroDon Gen I Filters

Acquisition Data

8/30/2010 to 10/11/2010 Chino Valley, AZ... with CCDAutoPilot3 & CCDSoft. AOL guided

Exposure

Lum (no filter) 225 min (15 x 15 min, bin 1x1)

Ha 570 min (19 x 30 min. bin 1x1)

RGB 270 min ( 6 x 15 min each, bin 2x2)

Click here for the narrow band color mapped image.
Click here for the B & W Ha filtered image)

Software

CCDSoft, CCDStack, Photoshop CS w/ the Fits Liberator plugin, Noel Carboni's actions.

eXcalibrator for (b-v), (v-r) color calibration, using 20 stars from the NOMAD1 database.

PixFix32 (pre-beta) to repair column defects & pixels.

CCDStack to calibrate, register, normalize, data reject, combining the sub exposures and LRGB combine

PhotoShop for non-linear stretching, LLRGB combine and adding Ha data to the final red channel.

Comment

North is to the left.


The emission nebula, Sh2-86, and the open star cluster, NGC 6823, are located in the constellation Vulpecula, at a distance of about 6000 light-years. The Sh2-86 nebula surrounds and is illuminated by the cluster. The remarkable pillar like features, below and left of NGC 6823, are probably formed by radiation from the brightest nearby cluster stars. The shape of the dark elongated nebula structures noticeably point back to the star cluster.

As clarified by Sakib Rasool, of StarSurfing, Sh2-86 is usually misidentified as NGC 6820. NGC 6820 is the small white/blue reflection nebula in the upper right corner of the above second image. This image was assembled with red and blue data from the 2nd Digitized Sky Survey (DSS2). The digital data were created by scanning the Second Palomar Observatory Sky Survey (POSS II).
════════════════════════════════════════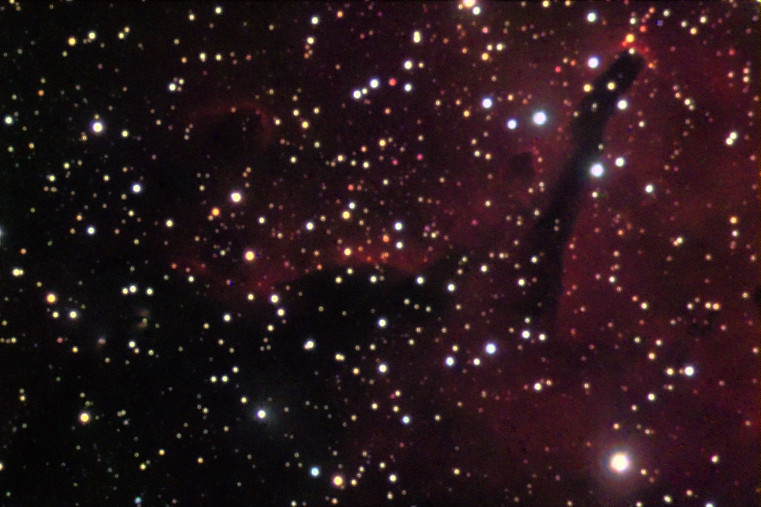 Instrument

Celestron C11 @ F/6.1 (1705 mm) 1.087 arcsec / pixel

Mount

Losmandy G11

Camera

SBIG ST-7 with CFW-8A color wheel

Acquisition Date

8/24/05 to 8/26/05 Near downtown Seattle

Exposure

Lum 270 min (15 X 15 min)
Red 80 min (8 x 10, bin 2 x 2)
Green 50 min (5 x 10, bin 2 x 2)
Blue 45 min (3 x 15, bin 2 x 2)

Software

CCDSoft, FocusMax, CCDOPS, Sigma Clip (pre beta 11)and PhotoShop CS. The DitherMat was used to dither the Lumance layer.

Comment

North is to the left.

Taken only 3 miles from downtown Seattle with very clear skies and about a 60% full moon. This object needs dark skies and an H-Alpha filter with 30 minute exposures for the luminance layer.

I thought I could bring out more detail on the left side, otherwise I would have positioned the camera more to the right.