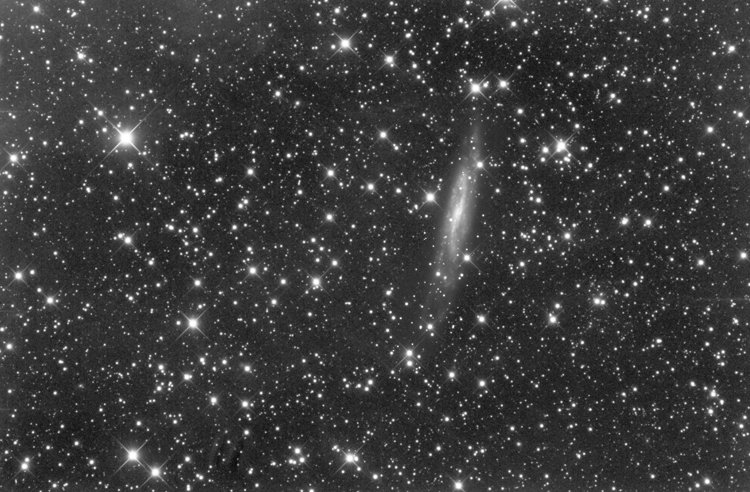 Instrument

12.5" RCOS @ ~f/9 (2880 mm fl) 0.64 arcsec / pixel. The Zoomify image scale is 0.64 to 2.30 arcsec / pixel.

Mount

Paramount ME

Camera

SBIG STL-11000 w/ internal filter wheel, AstroDon Gen I Filters

Acquisition Data

9/15/2010 to 10/13/2010 Chino Valley, AZ... with CCDAutoPilot3 & CCDSoft. AOL guided

Exposure

Lum (no filter) 300 min (20 x 15 min, bin 1x1)

Ha 480 min (16 x 30 min. bin 1x1)

RGB 135 min ( 3 x 15 min each, bin 2x2)

Software

CCDSoft, CCDStack, Photoshop CS w/ the Fits Liberator plugin, Noel Carboni's actions.

eXcalibrator for (b-v), (v-r) color calibration, using 14 stars from the NOMAD1 database.

PixFix32 (pre-beta) to repair column defects.

CCDStack to calibrate, register, normalize, data reject, combine the sub exposures and LRGB color.

PhotoShop for non-linear stretching, LLRGB combine and adding Ha data to the final red channel.

Comment

North is to the top.


NGC 7640 is located about 29 million light-years away, behind a faint veil of nebulous clouds, in the constellation of Andromeda. The barred spiral galaxy is about 59,000 light-years in diameter.

The second image shows the foreground nebula. This is probably similar to the Integrated Flux Nebula, which is found at higher galactic latitudes.